Store of the Future: The Store as a Fulfilment Hub
Download our latest whitepaper to find out why you can't deliver great customer experiences without great operations.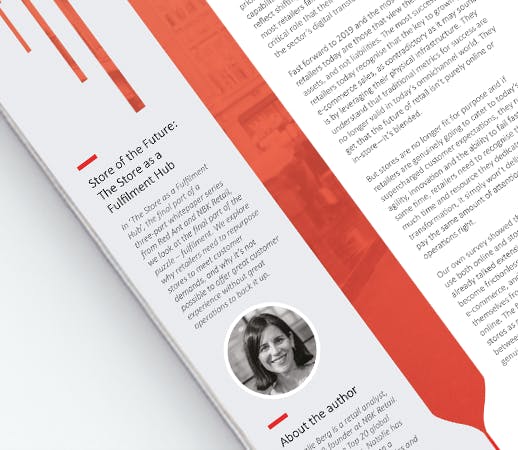 In the last of a three-part whitepaper series from Red Ant and NBK Retail, retail expert Natalie Berg looks at the final piece of the puzzle – fulfilment. She explores why retailers need to repurpose stores to meet customer demands, and why it's not possible to offer great customer experience without great operations to back it up.
Download
---
About the author
Natalie Berg is a retail analyst, author & founder at NBK Retail. As one of the Top 20 global retail influencers, Natalie has produced research on a number of industry topics, including the convergence of physical and digital retail, click & collect, customer loyalty, discount retailing, the store of the future and frictionless commerce. She is a regular TV and radio commentator and her views on retail have been published by the Financial Times, The Guardian, the BBC, The Times and Retail Week, among others. Natalie's latest book, about Amazon's role in shaping the future of retail, was published by Kogan Page in January 2019.
The Store as a Fulfilment Hub is the last of a three-part whitepaper series, which includes The Digital Store and The Experiential Store.