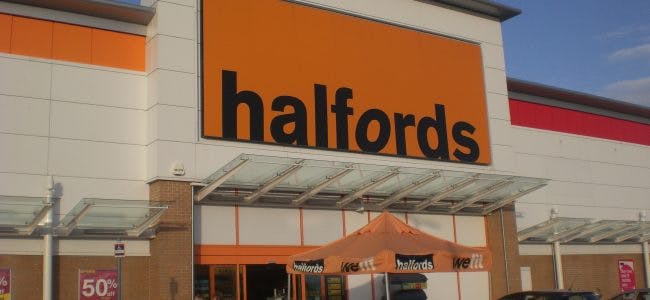 This article originally appeared on InternetRetailing.
Halfords [IRDX RHAL] has successfully completed a trial of smart watches for click and collect at one of its stores and has seen collection rates improve, cut paperwork and got the staff excited about technology.
Working with retail technology specialist Red Ant and Samsung, Halfords has trialled  a range of in-store tablets for customer use as well as phones and smart watches to help staff pick click-and-collect orders.
Currently, more than 90% of Halfords online orders are click-and-collect and the new technology offered to smooth customer experience. Using the tech, staff are automatically notified of incoming customers and their orders on the screens and watches. They can then use their phone or smart watch to generate a pick list, allowing them to put new orders together while they walk around the store.
Customers check in on a touchscreen kiosk at the front of the store and confirm their order, are shown any relevant upsell products and are told where to go to collect their order. Customers can also use the kiosk to ask for help, which pages a staff member on their phone or smartwatch.
What's more, the use of Red Ant's unique retail innovation platform RedConnect allows for zero-touch integration, which means that pilots like this can be up and running in a matter of months.
Overall the trial and the Halfords store in Leamington Spa, improved collection rates by 1% and cut paperwork from three sheets per click and collect order to one. And use of the latest mobile devices made staff feel valued and part of the process of innovation.
The pilot was delivered in 6 weeks, confirming Halfords as an innovative retailer and giving them  a new way of thinking about innovation, as well as helping them to experiment with new technology.
Katrina Jamieson, Digital Director at Halfords, explains: "We're always looking for new ways to enhance the shopping experience for our customers, whether it is in store or online. Our Store innovation programme has been set up to allow us to trial innovative ideas and test them in a real-world environment, so that we can see in a very practical way how they could benefit both customers and colleagues. "The click-and-collect pilot in our Leamington Spa store is a world first, and an innovative step towards providing a fully-connected retail experience for our customers."
Dan Mortimer, CEO at Red Ant, adds: "Halfords is dedicated to providing the best possible customer service, and they're really taking the lead in connecting mobile devices and wearables to provide a smooth, swift journey from online order to in-store collection. Staff will be able to deliver a more efficient, personalised service to customers, who will receive a truly seamless shopping experience."
Watch the video here